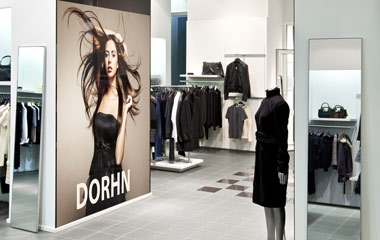 Since the days we dwelled in caves the human race has been decorating their walls. From paint made of berries, to Grecian and Egyptian frescos painted thousands of years ago and onto the tapestry covered walls of the Medieval era, for centuries we've known that wall coverings are the best way to impart a particular mood.

From the 1700s onward, the preferred way to dress one's walls has been traditional repeat pattern wallpaper. And while the technology has evolved over the years, the basic goal is the same.

However, in recent years we've seen the evolution of wall murals emerge- especially in the professional arena. These days, wall graphics for Phoenix businesses are all the rage.

Regardless of whether your aim is to market your retail store, office building or restaurant, digitally printed wallpaper is a fantastic way to personalize and promote your brand.

But How Does Digitally Printed Wallpaper Differ from Regular Wallpaper?

It's not at all uncommon to refer to this branding strategy as "logo wallpaper". The "paper" itself is actually fashioned from heavy-duty adhesive vinyl, making it not only durable, but highly customizable.

In addition, it affords business owners the ability to depict specific elements of their business and are a cinch to maintain and wash. Unlike traditional wallpaper, clean-up is made easy thanks to a protective layer of coating which also increases its durability.

Why Have Your Wall Mural Custom Printed?

A custom print job is designed exclusively around your business, brand, and logo. This is ideal when you consider the alternative for a moment. The wall mural's pre-printed counterpart could easily be selected by any other business owner in Maricopa County by merely walking into the nearest hardware store and picking the same design from a book.

Save yourself the embarrassment of non-descript, run of the mill wallpaper and think about some of the following ways custom wallpaper can distinguish your brand and help set the mood in your establishment.

Ideas for Custom Wall Graphics

Practically any business looking to emphasize their brand or create a specific environment can benefit. Below are a few of our favorite ideas; however, the possibilities are literally endless!

Restaurants –Some restaurants like to theme their interiors to match the type of cuisine they offer. For example, a French bistro looking to set the mood for a decadent meal might custom print a swath of the Parisian skyline to accompany its diners.

Retail Merchants – Or perhaps a spa wants to set the mood for a relaxing afternoon by opting for a lush tropical scene with a waterfall. Since our wall murals won't fade or chip like paint, they can help you create the perfect atmosphere to reel in the foot traffic and referrals your business deserves.

Business Offices – Use these wall graphics to jazz up your lobby or reception areas, and feel free to get creative. For instance, some companies who wish to highlight their sales territories may choose to customize a wall graphic comprised of all 50 states.

By investing even just a few of your designated marketing dollars on digitally printed wallpaper, your Maricopa County business will surely stand out far and above its competition. Just make the first move by contacting Spotlight Signs & Imaging and we'll take care of the rest!