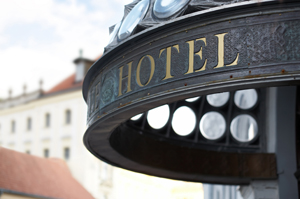 Have you ever seen a sign for a business you know nothing, or very little, about? Perhaps they're new to the area, or maybe they've been there all along and you just never noticed their sign (we'll address that in another blog). Well, I'd venture to guess that you've formulated an opinion about that business, based solely on their sign. If it makes feel any better, we're all guilty of it and research confirms you're not alone. Now, if you're a business owner, office manager, property manager, school administrator or marketing director, what initial impressions are you making with your signage?
Let's take a look at some thought-provoking data that comes from a study by BrandSpark International, a leading independent market research firm, conducted in conjunction with the Better Homes and Gardens Best New Products Awards program. Over 100,000 readers were surveyed as part of the study.
• 75% agree that one of the first things I notice about a new or unfamiliar business is the signage outside its building
• 36% said they were drawn into unfamiliar stores based on the quality of their signs
• 42% say they made quality assumptions based on a store having clear and attractive signage
• 86% agree that in addition to identifying a business, signs can convey the personality or character of the business
Here's the thing: potential customers notice your signs; they make decisions to visit your establishment based on the quality of the sign; and they make assumptions about the quality of your product based on the attractiveness of your sign. It makes sense. You wouldn't allow your sales or marketing manager to visit clients if they weren't well groomed and dressed professionally. So, why let your most visible marketing tool not be attractive, exude quality and be noticeable?
Imagine, if one out of every three potential customers that passed your business, came into your establishment and took a closer look. Would that interest you? Might that be one of your more effective marketing campaigns?
So, check out your own signage and make sure it's working effectively for you. If you don't have a sign – you're missing a huge opportunity and you need to get one. If the sign you have isn't representing you and your business properly, do something. Call someone, get some recommendations on how to improve your image and grow your business.